Matthew est entre Mike et Scott.
Pas (qu')une triade homosexuelle mais la fusion des deux héros principaux, Michael Waters (River Phoenix) et Scott Favor (Keanu Reeves) de My Own Private Idaho (1991) de Gus Van Sant.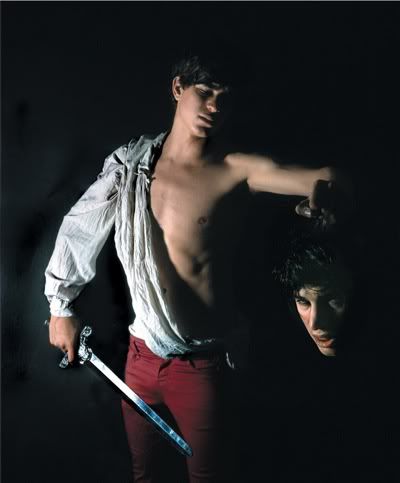 Matthew Stone est effectivement coincé entre une ascension sociale inévitable, souhaitée quelque part, et une rébellion continue contre l'ordre établi. Entre l'intégration d'un monde fortement codé et les échappatoires de la "liberté libre", vivant dans des squats, entouré d'une bandes de délinquants créatifs, dirigeant sa propre cour tel Falstaff (Bob Pigeon (William Richert) dans le film) en chevalier déchu.
A l'instar de Gus van Sant puisant dans un passé glorieux et subversif (le Shakespeare d' Henry IV part 1&2, Henry V), Matthew Stone convie le terrible Caravage à sa table des influences et des reprises. Littéralement (David and Goliath), ou par l'utilisation du clair-obscur (Optimism as cultural rebellion), la prise de personnes issues de la rue comme modèles (Before he could question it, a torrent of words flew out of his mouth like coloured birds), le cadrage serré sur des personnages perdus dans un décor vide (Boneless bodies decorated the ground yet considered activity was all around), la célébration d'un corps beau jusque (et surtout) dans ses imperfections (A Happiness Of Their Own). Stone, comme Van Sant, reprenants alors à leurs comptes le clivage désormais classique entre "High & Low" culture.
De même, le génie de Van Sant s'incarne souvent dans le montage de ses films. Tel est déjà le cas dans My Own Private Idaho avec l'alternance de plans longs puis brefs, les changements de caméra, d'angles, de styles, de musiques qui se succèdent alors dans une volonté de reconstruction de l'oeuvre par unité fragmentée. C'est également une des caractéristiques du travail de Matthew Stone. Evident dans le coin repris, fragmenté et exposé séparément de l'oeuvre originelle de Tara, mais surtout dans ce qui marque profondément sa différence, la présentation des oeuvres. L'art de Matthew Stone est indéniablement un art de la mise en scène. Et dans cette discipline, il devient réellement brillant, éclaboussant la concurrence. Ses photographies, assemblées sur des structures en bois parfois complexes dignes des cubes de Sol Lewitt (ce qui constituerait déjà quasiment une oeuvre en soi), deviennent des objets, acquérant par la même une certaine tridimensionnalité. Mais plus encore, Matthew Stone excelle dans la démesure, lorsqu'il voit grand, trop grand pour nous. Ses "photos-sculptures", posées dans un équilibre instable, traversant les murs, échappant au regard, écrasant le spectateur, nous dépassent. Ce n'est pas la taille qui compte (hasardons nous....) mais la puissance qui se dégage dès lors de cette mise en espace.
Le coup d'éclat de Van Sant de faire jouer les scènes de sexe comme des arrêts sur images (trouvant un étrange écho dans la série Pornographie de Levé) se retrouve magnifié chez Stone avec une prude délicatesse bienvenue et infiniment teintée de religiosité (sorte de Jugement Dernier de Michel Ange, mais période pre-da Volterra). Doucement décadents, les clichés repartent alors vers la peinture, dans un esthétisme XVIIème, signe d'une modernité qui décidément s'appuie continuellement sur le passé, proche ou lointain.
Les oeuvres de Matthew Stone sont entêtantes et troublantes comme les trois notes , tournoyantes, jetées négligemment par Kate Pierson des B-52's avant le refrain de Private Idaho (la chanson qui inspira le titre de son film à Gus Van Sant), entre le punk et la fête idiote (punk version plutôt Television que Ramones, groupe qui synthétiserait en fait à lui seul les deux termes...).
Matthew, tu sais ce qu'il te reste à faire pour boucler la boucle : remixe cette fabuleuse chanson avec les !Wowow!.....
MATTHEW STONE: MOVING VAN (SANT).
Matthew is between Mike and Scott. Not (only) an homosexual triad but the mix of Michael Waters (River Phoenix) and Scott Favor (Keanu Reeves) from Gus Van Sant's My Own Private Idaho (1991).
Matthew Scott is definitively stuck in a dilemma: an unavoidable but wished upward mobility or a constant rebellion against hierarchy. He hesitates between integrating a strictly standardized world and escaping, free at last, living in squat with creative offenders, hold court, as Falstaff (Bob Pigeon (William Richert) character), a deposed knight.
As Gus Van Sant reminds a glorious and subversive past (Henry IV part 1&2, Henry V by Shakespeare), Matthew Stone appeals Caravage, his tremendous and obvious influence. On a literal meaning (David and Goliath), by using claro oscuro (Optimism as cultural rebellion), by taking models from street (Before he could question it, a torrent of words flew out of his mouth like coloured birds), closed up compositions including characters into empty spaces (Boneless bodies decorated the ground yet considered activity was all around), by celebrating beautiful bodies, even in their defaults (A Happiness Of Their Own). Stone, as Van Sant, does consider classical split between High&Low culture.
Equally, Van Sant is a genius in movie montages. My Own Private Idaho is already a good example. He successively alternates long and short shots, uses different cameras, changes angles, styles, musics and tries to rebuilt his story, looking after a fragmented unity. Matthew Stone works the same way. It's obvious in Tara, a corner cuts from the original, exhibited elsewhere, but it's clear also in his uniqueness: works display.
Indubituously, Matthew Stone masters staging. He is a genius in that discpline, stifling competition. His photographs are mounted on complex wood structures, reminding Sol Lewitt's cubes (it could already make an artwork then....) and become objects, tridimensionals in a way. Moreover, Matthew Stone is brilliant when he thinks big, disproportional, too big for us. His "sculpture-photographs" are put down on a unstable equilibrium, pass over walls, escape from our steady looks, oversize us. Size does not matter (well....) but this particular display demonstrates power.
Van Sant's grand gesture is to present sexual scenes as freeze-frames (echoing Pornographie series by Edouard Levé). Matthew Stone does the same thing but glorified, full of welcome and puritan delicacy, totally overflowing with religiosity (a kind of Michelangelo's Last Judgment, before da Volterra did his stuff....). Photographs are softly decadent, evocate XVIIe style paintings, and prove that modernity keeps on relying on recent and old past for good.
Matthew Stone works are heady and unsettling, like the swirling pre-chorus three tones nonchalantly played by Kate Pierson on B-52's' Private Idaho (the song which gave its title to Gus van Sant's movie), something between the punk and the stupid party (by punk, I mean Television, not the Ramones who are still both punk and stupid....). Matthew, you know what to do now: remix this great song with your !Wowow! band....