Dan Colen a tout de la petite frappe, du bad boy, du génie nonchalant sans foi ni loi, détaché et rebelle. Il en a toute la panoplie, jusqu'à la caricature : l'attitude (un « nihiliste » comme dirait Jeffrey « the Duke » Lebowski), le look négligé, les tatouages, le gang (non, on ne citera pas les noms de Dash Snow, Ryan McGinley, Nate Lowman, Aaron Bondaroff & Co. comme dans tout article concernant Dan Colen. A croire que c'est une obligation ou un pacte....). Une forte tête qu'on aime détester, quelque part, qu'on déteste aimer, aussi. Un de ces leaders éphémères, maître du Lower East Side, glandeur starisé, drogué adulé (Pete Doherty style), happy few des parties new-yorkaises.... Seulement, Dan Colen est tout sauf ça. Ou presque. Disons que l'aura et la réputation dont il jouit est en (grande) partie créée par les médias, ceux-là mêmes qui s'en plaindront d'ici peu. Après tout, « ne sacrifie-t-on pas que ce que l'on aime », comme disait le philosophe Voodoo Child ? Alors, aimons-le d'abord, on verra ce que l'on en fait après....


A vrai dire, Dan Colen est un artiste complet : techniquement doué, conceptuellement pertinent, maître de ses références et conscient de l'histoire de l'art. Cohérente, détachée et un brin provocatrice, son oeuvre se joue des faux-semblants et n'en finit pas de mettre à mal nos préjugés, dont le premier est celui qui le concerne directement. Il n'est pas poseur mais posé, pas un désinvolte à l'acte facile, mais un artiste réfléchi et patient. Dan Colen crée du faux, donc de l'art. Sa pièce emblématique de cette production est Secrets and Cymbals, Smoke and Scissors, une reproduction à l'identique du mur de chambre de son ami Dash S. (conservons l'anonymat : cf. remarque plus haut). Fac-similés, artefacts, faux et usages de faux, tout sur ce simili-mur est là pour nous tromper et questionner à la fois le rapport au réel (les objets) et à la réalité (l'exactitude du mur) et l'introduction du vivant dans la morgue muséale (à l'instar de l'installation My Bed de Tracey Emin). Dans Get High ou No Sex, no War, no Me, Colen peint d'illusoires tags (comme les pastels de Tony Just) et intègre des morceaux de réels falsifiés dans le champ de l'art. Ses menhirs totémiques, emblèmes d'une civilisation que sont les Untitled (Eat Shit & Die, Zippideedoodah, Vete al Diablo) fonctionnent sur le même principe. Géants de papiers mâchés posés sur des titres / promontoires qui reproduisent à la perfection une réalité qui n'existe pas. Une sorte de décor d'un futur qui découvre un passé qui n'a pas existé. Les monolithes sont tagués comme si la jeunesse avait volontairement dégradé des monuments oubliés, s'était appropriée un danger potentiel contenu dans ces blocs de vide.
Le faux s'immisce aussi dans un rapport complexe et retors à la peinture. Ses Birdshit sont la réalisation de fientes peintes avec précision et véracité, entretenant la peinture dans une posture entre dégoût et ironie calculée envers la grande abstraction américaine. C'est une fois de plus un réel masqué qui s'avance sous les jeux picturaux de Colen. La longue série des copies d'une bougie extraite d'un arrière-plan de Pinocchio (studios Disney, 1940) est révélatrice de sa pratique pervertie et « pervertissante » du médium peinture. La redite du même sujet dans un style fidèle à l'original (hyperréalisme de cartoon) met en avant les différences minimes entre les deux éditions différentes de livres desquels il extrait l'image. Sa touche personnelle s'anime dans les paroles nées de la fumée de la bougie qui donnent leur titre malade aux pièces finales (Fuck, Untitled (Blow Me), Untitled (Boo Fuck'n Hoo)…). Cette singulière approche conceptuelle de la peinture dérive directement de l'hyperréalisme feint de ses débuts, aux titres improbables (Madonna and the Fairy Madonna and the Fairy (" First they exchanged anecdotes and inclinations") / The Firecracker and the Old Man ("Just leave me alone")). L'inquiétude de l'extérieur en tant que réalité et son exécution appropriationniste s'incarne également dans le geste de réécriture sur des tableaux préexistants : 4 women, 4 men / Fuck Authority ne sont pas sans évoquer les interventions similaires de Cyprien Gaillard (série Nouveau Pittoresque).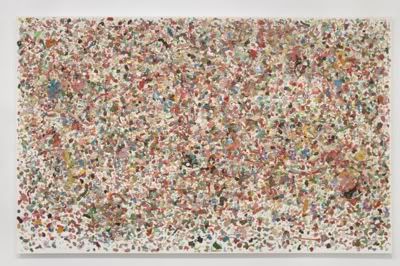 Enfin, c'est dans le cœur même des matériaux que Colen défend sa relation au réel. Les plus connus d'entre eux sont sans doute le chewing-gum (Untitled (gum), To be titled) qu'il utilise comme matière première appliquée directement sur la toile (on retrouve la même pratique chez Adam McEwen qui doit être suffisamment ami avec Colen pour être autorisé à partager sa marque de fabrique technique…). Si l'attitude est inévitablement provocatrice et punkisante (du moins Rock'n'rollante, cf. la cover de The Virgins), le rendu embrasse et embarrasse la dimension transcendantale de l'art des années 1950 à 1970.
Alors oui, définitivement, Dan Colen est successivement et tout à la fois le roi, le vaniteux, le buveur, le businessman, l'allumeur de réverbères, le géographe, l'aviateur, le renard, la fleur…. Mais il demeure, avant tout, et surtout, un bien étrange Petit Prince.
Dan Colen: Art Little Prince.
Dan Colen looks like a hood, a bad boy, a nonchalant genius fearing neither God nor man, detached and rebellious. He's got the whole outfit, till caricature: the attitude (a "nihilist" would say Jeffrey "the Dude" Lebowski), the sloppy look, the tattoos, the gang (no, we will not mention the names of Dash Snow, Ryan McGinley, Nate Lowman, Aaron Bondaroff & Co. as in every article about Dan Colen. Is it an obligation, a pact?...). A rebel we love to hate and hate to love too. One of these ephemeral leaders, master of the Lower East Side, a layabout star, a hero-worshipped junkie (Pete Doherty style), an happy few of New-York parties… The problem is that Dan Colen is everything but that. Well, almost. Let's say that his aura and reputation are for the most part created by the medias, the same ones that will complain soon. After all, "we only sacrifice the things we love" said the Voodoo Child philosopher, right? So, let's love him first, we'll see what to do with him later…
Actually, Dan Colen is a complete artist: technically gifted, conceptually relevant, master of his references and conscious of art history. Coherent, disconnected and slightly provocative, his work makes light work of pretences and keeps on fighting prejudices, starting off with the ones he's directly involved in. He's not a poser but composed, not an offhand person easily productive but a reflective and patient artist. Dan Colen creates fake things, i.e. art. His emblematic piece of that production is Secrets and Cymbals, Smoke and Scissors, an identically reproduction of bedroom's wall of his friend Dash S. (remain anonymous: see above comment). Facsimiles, artifacts, forgery and use of false documents, everything on this imitation wall is here to deceive us, questions our relationship to the real (objects) and the reality (wall exactitude) and introduces the living on the museal morgue (like the installation My Bed by Tracey Emin). On Get High or No Sex, no War, no Me, Colen paints illusory tags (like Tony Just pastels) and integrates falsified pieces of reality into art domain. The Untitled pieces (Eat Shit & Die, Zippideedoodah, Vete al Diablo), totemic menhirs, emblems of a civilization, function on the same principle. Giants of paper mache put on titles/promontories, they perfectly reproduce a reality that doesn't exist. A kind of décor of a future discovering a past that never existed. The monoliths are tagged as if the Youth had voluntarily damaged lost monuments, had appropriated the potential danger contained on these blocks of emptiness.
The falsehood interferes into his complex and devious relationship with painting. The Birdshit paintings, realizations of mucks realistically and precisely executed, position painting between disgust and calculated irony towards great American abstraction. One more time, the real is masked and progresses under Colen's pictorial games. The series of copies of a candle extracted from Pinocchio's background (Walt Disney Studios, 1940) is revealing of a perverted and perverting practice of the painting medium. Repeating the same subject on a faithful style to original (cartoonisc photorealism) points up minimal differences between two different copies of the reference book. His personal touch animates words born on candle smoke and give sick titles to the final pieces (Fuck, Untitled (blow me), Untitled (Boo Fuck'n Hoo)…). This particular conceptual approach to painting derivates from the feigned photorealism of the beginnings with its improbable titles (Madonna and the Fairy Madonna and the Fairy (" First they exchanged anecdotes and inclinations") / The Firecracker and the Old Man ("Just leave me alone")). The anxiety of exterior as reality and his appropriation by the execution portray on his rewriting gesture on preexisting paintings too: 4 women, 4 men / Fuck Authority reminding us similar interventions by Cyprien Gaillard (New Pittoresc Series).
Finally, Colen defends his link to the real in the very middle of his materials. The most famous is undoubtedly the bubble-gum (Untitled (gum), To be titled) . He uses it like raw material directly put on canvases (we find the same practice on Adam McEwen works who is probably friend enough with Colen to be allowed to share his technical trademark…). If the attitude is inevitably provocative and punk (well, Rock'n'Roll at least, see The Virgins cover), the execution embraces and embarrasses the transcendental dimension of art from the 1950s to the 1970s.
So, yes, Dan Colen is definitively, successively and simultaneously, the King, the Conceited Man, the Drunkard, the Businessman, the Lamplighter, the Geographer, the Aviator, the fox, the flower… but he remains, first and above all, quite a strange Little Prince.